THE "BIG 5" CULINARY DELIGHTS IN MADRID
Ready? If you are planning your next trip, don´t lose track:
The "Big 5" you must try. What to eat in Madrid?
TORTILLA DE PATATA  (Spanish Omelette)
This Spanish-style omelette is delicious and one of the most popular dishes in Spain.
Culinary art with only three or four ingredients: potatoes, eggs, onions (or not) and olive oil. It can be made with or without onions… often a matter of controversy!
Perfect tortilla should be slightly curdled and juicy, not runny and not overcooked.
If you want to eat food like a local: order a tapa of Spanish omelette with a tap-vermouth (vermut de grifo) or beer (caña) and you´ll be perfectly happy.
COCIDO MADRILEÑO (Madrid Stew)
From Madrid and proud of it. There isn't a typical Madrid dish more complete than this. Is one of the most traditional and iconic foods from Madrid.
With a recipe faithful to its tradition, this stew will delight those who love "home-made dishes". With chickpeas as the main ingredient, this local specialty includes a variety of meats (pork, beef and chicken), potatoes, vegetables and more.
It´s a great source of energy, to keep you going for a long time!
PATATAS BRAVAS (Fried potatoes with spicy sauce)
Tasty and with their own character, they leave no one in doubt!
"Una de bravas!" is one of the most intoned phrases in the Spanish bars and restaurants.
Patatas bravas consists of potatoes that are fried in oil and served with hot sauce.
Although it´s a popular Madrid dish, depending on where you go, you´ll find them with or without tomato sauce, but always with a degree of spiciness which makes them unique.
PAELLA (Spanish Rice)
Admired, recognized and loved by all. Spanish rice is one of the most highly valued dishes of Spanish gastronomy in the world: if you take out a paella… you will make friends everywhere.
It´s absolutely mediterranean, a delicious dish typical from Valencia, but it is also possible to eat a good one in Madrid.
The base is a thin layer of rice, olive oil, salt and saffron, combined with other ingredients. There are many paella recipes: with rabbit, chicken, green beans, tomatoes, artichokes,… and our favorite one: seafood paella, a delicious recipe with fish and shellfish.
CHORIZO A LA SIDRA (Chorizo in Cider)
Two flavors masterfully united: chorizo sausage and hard apple cider. A tasty tapa with a soft smoky touch and paprika-spiced pork that perfectly combine with the acid notes of the cider.
Chorizo, Spanish sausage, is cooked into apple cider for 5-8 minutes. Simple and delicious. We recommend having a good piece of bread on hand.
Tapas Tour
If this is your first time in Madrid, we recommend that you explore the local gastronomy with Food Lover Tour.  Taking a culinary tour is the most reliable way to discover some of Madrid's favorite places to get a real taste of Spanish tapas.
You´ll be taken to the authentic local bars, restaurants and markets, far away from the more tourist and expensive spots.
Food Lover Tours are the winners of the LTG Global Adwards 2021/22 as a culinary tour company. 100% recommendable.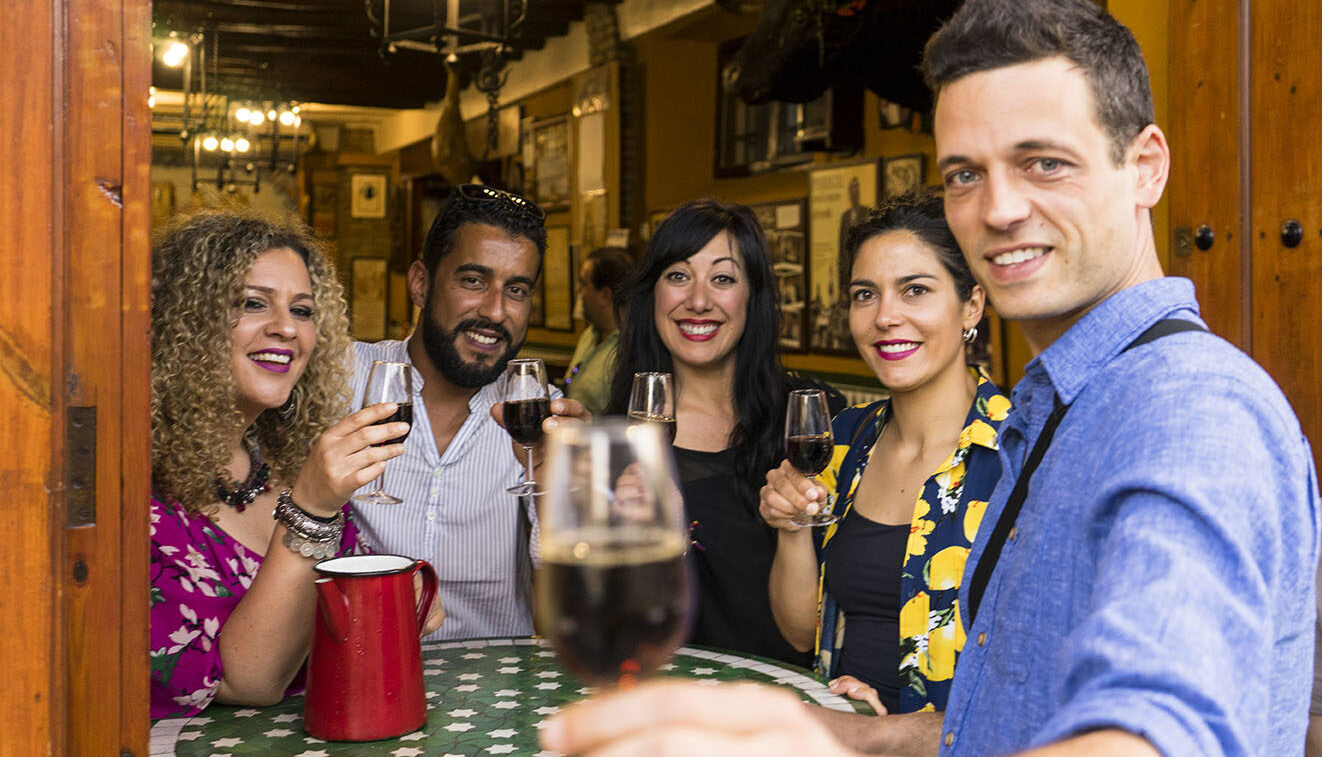 TAPAS TO GO! Take the taste of Spain in your suitcase
In addition to tasting the typical food on a terrace or in a bar in the capital,  you can now enjoy the most valued tapas of Spanish gastronomy when you return home. TÍA TAPA is an amazing way to take back the favourite tapas in a suitcase. The perfect memory of Madrid, a gift to surprise, in a way never seen before, in a beautifully designed tin. The perfect travel package: resistant, safe and requires no refrigeration.
Tia Tapa´s recipes are made with natural ingredients, packaged at the right moment in the cooking process in order to retain all their nutritional properties and flavour.
Foreigners love TÍA TAPA for being an original way to take home authentic Spanish Tapas as a souvenir.
Some of the places to get it:
Madrid Barajas Airport: duty free shops at T1 and T4 terminals.
Gourmet Bartolomé: calle de la Sal, 2. Close to Plaza Mayor.
Tablao Las Carboneras (flamenco show): calle del Conde de Miranda, 1. Close to calle Mayor.
When to eat in Madrid? Spanish mealtimes
Lunchtime in Spain is usually between 2 pm and 4 pm. However, in Madrid, restaurants are becoming more and more flexible regarding their opening hours. The Spanish cuisine of Madrid can be very hearty.
Take a look on these timetables so as not to go against the clock:
Breakfast: 7–11h
Aperitif: 12–14h
Lunch: 14–15:30 h
Mid-afternoon snack (merienda): 17–18:30 h
Dinner: 21–23 h
A drink after dinner: until 3:00 h (discotheque until 5:30h)
Enjoy MADRID!